Mrs Cosgrove P2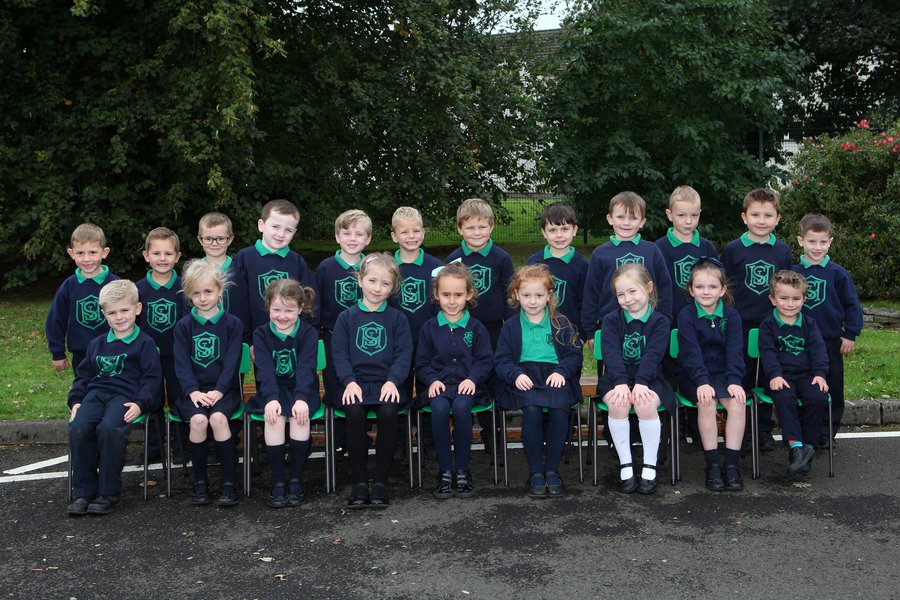 Welcome to Primary 2. There are ....... Primary 2's in our class! Mrs Hobson is our classroom assistant.

So far this year the boys and girls have been working very hard and having lots of fun at the same time! Primary 1 are busy bees learning all their new letters, sounds and key words each week. They are doing so well with their writing, reading and Numeracy!

We have been learning about lots of different topics including Ourselves, Autumn, People Who Help Us and Winter.
For our topic on Autumn we visited Garvagh Forest to investigate seasonal changes. It was really exciting, we built hedgehog houses, searched for different coloured and shaped leaves, listened to all the sounds of nature around us and we even got to travel by bus to get there!

As part of our People Who Help Us topic we had a class visit from two Policemen who talked to us about their jobs. They let the boys and girls try on their police hats, vests and coats! They arrived in a police van and all the children got to sit in it and hear the sirens. If we were bad we were put in the cage at the back!!

We were then really lucky to visit Coleraine Fire Station and meet some of the Fire fighters who work there. They showed us all the Fire fighter's uniform and equipment. Miss Duddy got to try the uniform on! It was very funny! The boys and girls pretended to be Fire fighters, sitting in the fire engine and putting out fires with the hose.
Our topic for January and February is all about Food. We have been talking about our favourite foods and sorting food into healthy and unhealthy groups. We have been learning about where different food comes from.

'Yum! Yuck!', 'The Runaway Pizza', 'The Gingerbread Man' and 'The Little Red Hen' are just some of the food stories that the boys and girls are enjoying reading during Literacy time. We have also been reading lots of non fiction books such as 'What Do I eat?', 'Food Alphabet', and 'Journey of a Bar of Chocolate' to find out lots of facts about different food.

Last week we visited Domino's Pizza as part of our topic. The staff showed us around the shop, how to process the orders on the computers and how to make a pizza. We explored all the different pizza toppings and then the boys and girls put their aprons on and had the opportunity to make their own pizzas! We watched as our pizzas were cooking in the hot oven and couldn't wait to eat them when we got back to school! YUM YUM!

We can't wait to find out what new and exciting things we will be learning in the next few months. Keep reading our page to find out.
Miss Duddy